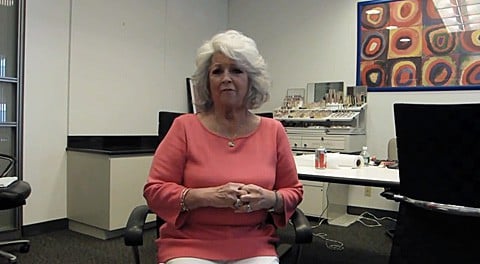 Paula Deen released two videos this afternoon apologizing for racist remarks she made in a deposition (transcript) for a discrimination lawsuit brought by her former employee Lisa Jackson in which she admitted to using the N-word, making racist and anti-semitic jokes, and having an interest in hiring black waiters to look like "slaves" for a "southern style plantation wedding." The videos came after a day in which she failed to show up for a segment on the Today show with Matt Lauer.
She has now been dropped by the Food Network.
In the deposition she is asked to explain whether she uses jokes in a mean way:
Lawyer: What about jokes, if somebody is telling a joke that's got —
Deen: It's just what they are, they're jokes.
Lawyer: Okay. Would you consider those to be using the N word in a mean way?
…
Deen: That's — that's kind of hard. Most — most jokes are about Jewish people, rednecks, black folks. Most jokes target — I don't know. I didn't make up the jokes, I don't know. I can't — I don't know.
Lawyer: Okay.
Deen: They usually target, though a group. Gays or straights, black, redneck, you know, I just don't know. I can't, myself, determine what offends another person.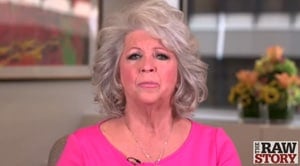 One of Deen's apology videos was removed from YouTube shortly after being posted, after it reportedly received hundreds of critical comments. It has been mirrored by other sites and reposted.
Says Deen in that video:
"I want to apologize to everybody for the wrong that I've done. I want to learn and grow from this. Inappropriate and hurtful language is totally, totally unacceptable."
In the second, longer video, Deen adds:
"I've spent the best part of 24 years to help myself and others. Your color of your skin, your religion, your sexual preference does not matter."
Watch both clips, AFTER THE JUMP…