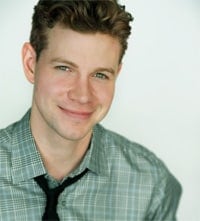 Sean Mandell is an actor and writer living in Los Angeles,
California. Born and raised behind the Orange Curtain, he left the
comfy confines of the OC to study government at Georgetown University.
Upon arriving in DC he quickly learned he didn't want to work in The
West Wing so much as play a character on "The West Wing." He graduated a
John Carroll Fellow, with Honors, Summa Cum Laude, Phi Beta Kappa and
fourth in his class. His short film, "Wednesday, 10-11 AM," received
the Joseph S. Lepgold Award. As a
producer at the non-profit Southern California theatre company, Theatre 180, he was
instrumental in partnering with The Trevor Project to stage a production
raising awareness about teen bullying. He has worked in independent
film and continues to hone his craft. He remains a passionate political
junkie.