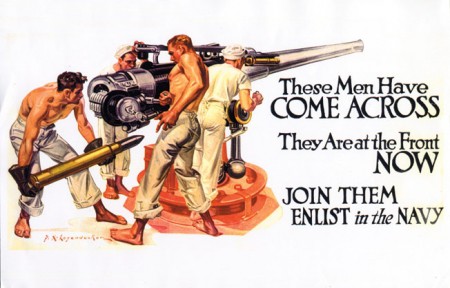 Adweek looks at gay advertising's long march out of the closet:
After years of baby steps toward LGBT consumers, who represent an estimated $790 billion in spending power, brands like Crate & Barrel, American Airlines and even Bridgestone tires have brought their marketing out of the closet, picturing same-sex couples that are unquestionably more than just friends. While it may seem like such ads rode a cultural wave of gay acceptance that began with Will & Grace and crested with Glee, it is actually a trend that was decades in the making, and a look back through advertising's dusty annals reveals images of startlingly frank male-on-male intimacy dating back to the early 20th century.
And make sure not to miss their choices for the 16 gayest ads in history, starting with the one above:
J.C. Leyendecker—the most successful commercial artist of the 1920s, and also a gay man—often seasoned his work with surprisingly sexual male-on-male imagery, such as this WWII Navy recruiting poster (complete with stripped-down sailors and that suggestively positioned projectile). It's a testament to how thoroughly invisible the gay community was at this time that the military brass who OK'd this ad didn't even see it as suggestive.
With regard to my previous post, it's interesting how the gay angle in military recruiting ads has evolved.