Adam Lambert has walked away from his contract with RCA records after the label demanded an 80's covers album, according to the Hollywood Reporter: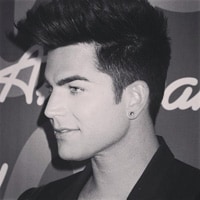 The singer is walking away from his RCA contract after two full length albums, 2012's Trespassing and 2009's For Your Entertainment, along with several EPs and a live collection — all issued by the Sony Music label.
Lambert revealed the news in a letter to THR…In it, Lambert notes "the oft-cited 'creative differences'" as they related to his next project, stating: "my heart is simply not in doing a covers album." To the contrary, Lambert adds that he's "deep into writing new material with some very talented colleagues," which will surely delight his audience of diehards.
The "evolution" continues, he says. "This music is where my heart is." But it won't be at RCA, where a typical American Idol recording contract stipulates that the artist and the label be on the same page creatively.
THR has a full letter from Lambert.
It was recently revealed by creator Ryan Murphy that Lambert would be joining the cast of season five of Glee.