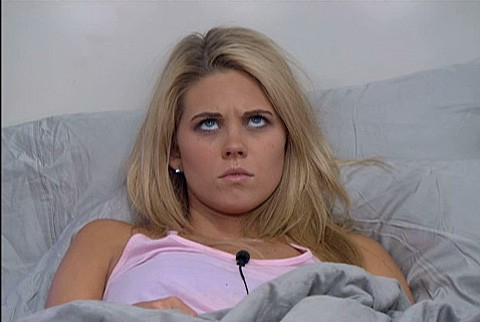 Aaryn Gries, the 22-year-old college student at the epicenter over the controversy over the racist, homophobic, anti-Semitic, and sexist comments emerging from the show's live feeds, says she doesn't care and thinks it's obnoxious that people are accusing her of racism in a segment aired on the broadcast version last night.
Says Gries when warned that other housemates think her comments are wrong:
"That's the most obnoxious, annoying thing I've ever heard…I'm not even gonna acknowledge it, because it's the biggest joke. I really just think that it's the most immature thing ever. They call me Barbie and all sorts of —- about me being blonde all the time, so what's the difference? I wish that I cared more about this, but I don't…"
For a sample of the comments, click HERE.
Since the segment aired, another fight erupted in the house after Aaryn mocked the black housemates in a voice TMZ describes as "a callback to a white slavemaster talking to slave on a plantation."
Watch both clips, AFTER THE JUMP…
And here's the new segment from the feeds (starts at 2:00):