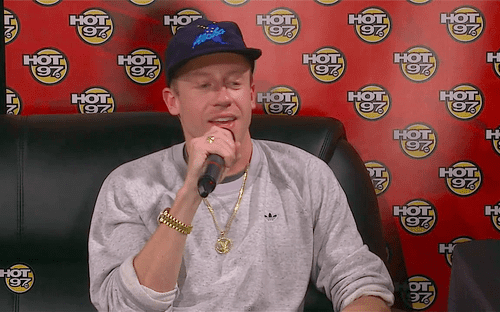 On the same day that his single "Same Love" went platinum, rapper and LGBT ally Macklemore paid a visit to Angie Martinez and Peter Rosenberg on NYC's Hot 97 to talk about the inspiration behind his single, his "hella gay uncles," and homophobia within the wider hip-hop community. 
On his song "Same Love":
"I think [my gay uncles] were an influence. I think that looking at the hip-hop community and holding myself accountable in the hip-hop community was what I cared about. That's my community. That's who I see to be oppressing gay people. The f-word and saying "that's gay" are still rampant. Homophobia is still rampant in the hip-hop community and it just gets the co-sign…It's getting better. The last year has gotten a lot better, but for so long, it was just an issue that nobody touched on."
Later on, Macklemore dishes on what it's like to be the first major hip-hop artist to really address the issue of homosexuality:
People are just scared. People are just really scared of how other people are going to perceive them. And for me, artists push the envelope of what is 'culturally acceptable' within hip-hop – what falls under the parameters of what hip-hop is and what it isn't. Those rules are old and outdated. This is an issue of equality and humanity and let's put that at the forefront and not worry about what the internet is going to say about us. I don't give a f*ck. I'd rather change people's lives than worry what the comments are going to say. 
Check out Macklemore's interview (and an impressive freestyle), AFTER THE JUMP…