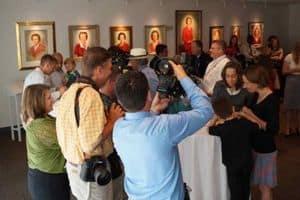 We already know that Mall of America plans on hosting one of the first same-sex weddings in the history of Minnesota. Now, with Minnesota's first day of marriage equality fast approaching, Betty Crocker and its parent company, General Mills, have decided to join in the celebration, hosting three same-sex couples (who plan on becoming among the first to get hitched on August 1st) at their Betty Crocker Kitchens headquarters in Golden Valley for a wedding cake tasting. The company will also be donating cakes to each of their three ceremonies. 
The story comes to us via a press release from GLAAD.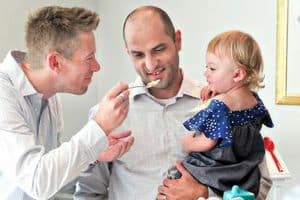 General Mills, which scored a perfect 100 on the HRC's most recent Corporate Equality Index, has developed a history of supporting equal rights…much to the ire of the ultra-right wing. This most recent show of support comes as part of their "Families Project", which seeks "to understand what it means to be a family – so we can share the strengths that make every family part of a home," according to the company's website. GLAAD reports:
"Margaret Miles and Cathy ten Broeke, the first couple who will be married, were joined by Reid Bordson and Paul Nolle, the second. Both will be married on Thursday by Minneapolis Mayor R.T. Rybak. The third couple was Al Giraud and Jeff Isaacson, who will be the first couple married in St. Paul. The three couples tasted three Betty Crocker cakes, designed specifically to their tastes, in order to select one for their ceremony."
The cakes were prepared by Terri Leckas of Queen of Cakes in Edina, MN. "We did a little taste testing of our own at my cake shop over the weekend and it was a lot of fun to walk in to the smell of baking at home," she said in the release. "It was a really good feeling."
Making history in the Land of A Thousand Lakes…seems like a good enough reason to take a day off from your diet. That, and it certainly is good payback for North Carolina, where gay marriage opponents celebrated the state's new ban on same-sex marriage in May by eating wedding cake.