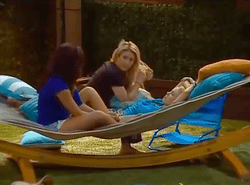 While Big Brother's summer season may have just kicked off, two houseguests are already facing serious real-world consequences for their comments in the house.
Aaryn Gries, a 22-year-old Texas college student and GinaMarie Zimmerman, a 32-year-old New York pageant coordinator have both been fired from their respective jobs outside of the game after a conversation between the two of them, laced with racist and homophobic slurs, found its way to the live-feed and YouTube. The Huffington Post reports:
Aaryn and GinaMarie first made fun of Helen, an Asian-American contestant. "Dude, shut up, go make some rice," Aaryn says. Later, GinaMarie adds, "Andy was like, 'I'm gonna punch her in the face,' and I was like, 'Maybe that'll make her eyes straight."
The conversation then turned to Howard and Candice, two African-American contestants. "Blacks stick together….They're like tokens…They're like black Barbie and Kens," someone on the tape says, before another voice says that Candice's 'blackness' was coming out.
They then worried aloud about Andy getting the MVP 'because everybody loves the queers." 
In statements posted online, Zephyr Talent, the Texas modeling agency that reps Gries, and East Coast USA Pageant Inc announced the two organizations have severed ties with their respective employees.
More, including a video clip of some of the comments, AFTER THE JUMP…
Sadly, the hateful comments have not been isolated to just these two Houseguests. Many of the 16 member cast already have a long list of terrible things they've said in the house, ranging from casual use of the n-word to one contestant calling openly gay houseguest Andy a "fag" to his face. The offensive comments became so frequent in the house that producers were forced to make a rare announcement over the house PA system warning contestants not to use slurs against other housemates. CBS also issued a statement of their own saying "At times, the Houseguests reveal prejudices and other beliefs that we do not condone. We certainly find the statements made by several of the Houseguests on the live Internet feed to be offensive."
Unfortunately, the various comments and conversations were edited out of CBS' broadcast, leading gay former Big Brother contestant Ragan Fox (a personal favorite of mine) to post an open letter to the producers, urging them to air the comments so that viewers can see the "racism, ethnic discrimination, and homophobia that these people encounter in the house."