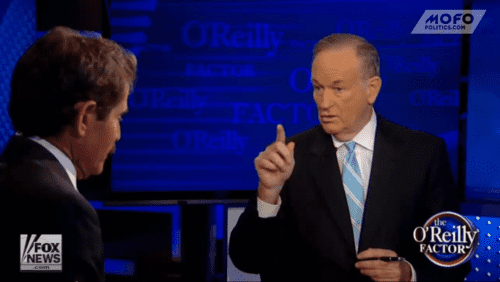 Bill O'Reilly still has some tricks up his sleeve: on his show last night, the Fox News host expressed a belief that telling a gay person "you're going to Hell" should be illegal–at least, in some instances.
O'Reilly's guest last night was John Stossel–who hosts a weekly show on Fox Business–and the comment came amidst a discussion of American evangelist Tony Miano, who was arrested in London last week after preaching against homosexuality in front of a shopping center in Wimbledon.  According to the Telegraph, Miano was arrested "under the controversial clause of the Public Order Act which bans 'insulting' words or behaviour."
"I think that should be against the law," O'Reilly said of any hypothetical anti-gay preacher who "went up to a homosexual, got in his face and said, 'you're going to hell, you're going to hell.' He's invading the person's space. He's bringing intentional, personal anguish to the person. I think that person should be protected."
Stossel expressed some agreement with O'Reilly but said that the standard should be based on "fighting words" that were meant to incite violence.
Of course, telling someone that they are going to hell is protected speech here in the U.S.  Threatening behavior, on the hand, is illegal.
Watch the full exchance, plus an iconic Bill O'Reilly moment, AFTER THE JUMP…