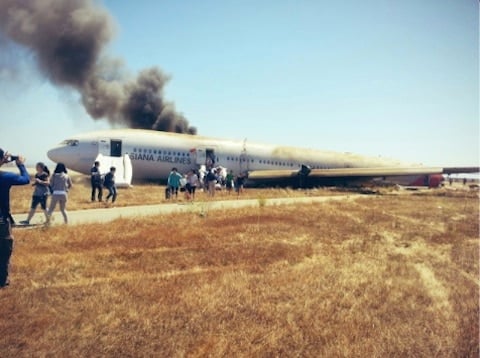 An Asiana Boeing 777 has crash landed at San Francisco International Airport after its tail came off while landing, KTVU reports:
According to a witness, around 11:30 a.m. the plane was just about to land — its landing gear had come down — when the tail of the plane came off. After wobbling for a minute, the aircraft flipped upside down, coming to a stop on runway on it's back, according to witness Kathy Muhler.When it came to a halt, smoke was pouring from the aircraft. Fire crews responded minutes later, Muhler said.
Twitter user David Eun was on the plane, and tweeted the above photo: "I just crash landed at SFO. Tail ripped off. Most everyone seems fine. I'm ok. Surreal…"
But that nightmare turned into a miracle as hundreds of people managed to flee the shattered hulk of the jetliner, even as flames spread through the passenger cabin.
Two people were killed and 49 seriously hurt when Flight 214 crashed at 11:27 a.m. But the rest of the 307 passengers and crew members escaped either unscathed or with lesser injuries, Doug Yakel, an SFO spokesman, said at an evening news conference.
As night fell, emergency vehicles with their blinking lights still surrounded the burnt-out remains of the jetliner. Holes ringed by charred metal were ripped out of the plane's top, and the back of the plane was open to the elements where the aircraft's tail once was.
A visitor at SFO took a video of the plane shortly after the accident, AFTER THE JUMP…