In Two and a Half Men news, the late Charlie Harper's (Charlie Sheen) daughter is a lesbian and will be a recurring character on the show.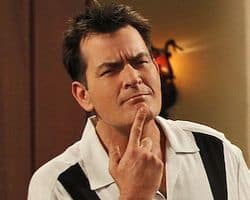 TVLine reports:
Charlie's daughter Jenny, who will surface in the Season 11 premiere, "likes everything her dad liked, including women," per a breakdown for the yet-to-be-filled role.
The casting call also details that the daughter Charlie never knew is 21, "beautiful and sexy," and she "uses her hotness when she needs to." The new character shows up on the beach house doorstep upon moving from New York City to Los Angeles to pursue a career in show biz.
The role of Jenny at this time is recurring, with the option to become a series regular — ostensibly filling the void left by Angus T. Jones' full-time exit from the sitcom — if she clicks with viewers.