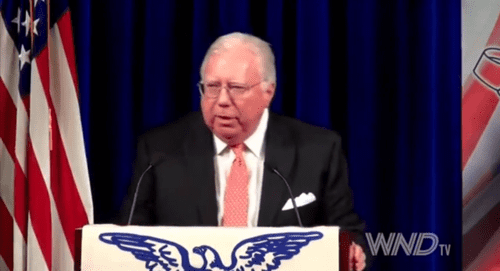 Jerome Corsi, author and "resident crackpot" of WND, was one of the speakers attending the Eagle Forum's Collegians Summit in Washington DC. During his speech, he spouted many familiar arguments frequently used by homophobic conservatives, that marriage equality will inevitable lead to polygamy and pedophilia. 
"It's very hard, once these barriers are broken, once the logic of a Judeo-Christian faith is broken down, so that people no longer believe in fundamental issues such as sin…We begin heading towards a kind of Paganism that we've done before. Ancient Rome experimented with this."
Corsi also cautioned those in attendance that establishing a constitutional right to same-sex marriage would inevitably lead to hate crime charges against anyone "who preaches a Biblical, Judeo-Christian interpretation that anything except a marriage between a man and a woman is a sin." 
Watch the video (via Right Wing Watch) AFTER THE JUMP…