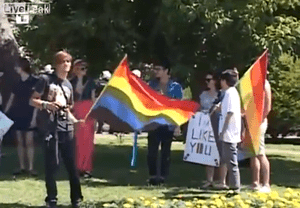 The small Balkans nation of Montenegro held its first ever Pride parade in the coastal town of Budva. While the small 40-person parade did anticipate some resistance, organizers were shocked when more that 200 anti-gay protesters showed up, and chanted slogans like "kill the gays" while assaulting both participants and police. At least ten of the protesters were arrested, while several members of the parade walked away with minor injuries. 
The violence comes one day after anti-gay demonstrators hung fake death notices depicting on of the parade's organizers, Zdravko Cimbaljevic, who is also credited as being the "first person to have come out as gay in Montenegro". He told Reuters that these violent and homophobic demonstrations showcase "the true face of Montenegro". The country has recently sought multiple measures to improve its human rights record in order to join the European Union, despite having a rather conservative population. One native Montenegrin told a reporter from AP that, "I don't approve of violence, but I didn't know how to explain this gathering to my son." According to AP, the Montenegrin government praised both the parade participants and the police who clashed with protesters. "Interior Minister Rasko Konjevic praised the police, saying they prevented more serious clashes."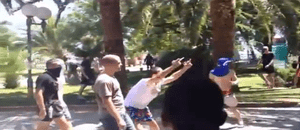 This is, unfortunately, not the first instance of violence toward gay people taking place in Montenegro. AP reports that:
"Previous attempts to organize pride events in the country failed over threats of violence. In 2012, actors who posed as a gay couple in a video promoting tolerance were badly beaten in the capital, Podgorica. But Montenegro's pro-EU government has expressed support for the pride event and urged tolerance." 
Pride celebration now routinely take place in neighboring Croatia without such incidents. However, it is worth noting that another neighboring nation, Serbia, banned a Pride march last October after similar violence erupted at another parade in 2011. The Serbian government claimed that they banned last year's march for fear of even more violence. 
In an effort to improve its standing on human rights, Montenegro has already "passed a bill against all kinds of sexual discrimination." Unfortunately, the tide of public opinion has yet to shift. According to NBC World News, "two-thirds of Montenegrins canvassed in a recent survey by the Ipsos research think-tank said they thought homosexuality was an illness and 80 percent said it should be kept private."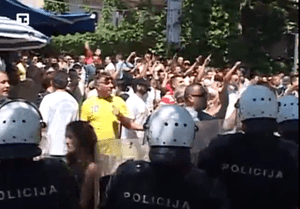 No word has yet been released as to whether LGBT activists plan on attempting similar celebrations or demonstrations in the future. LGBT rights groups in Serbia have already hailed the parade in Montenegro as "strategically important". Other LGBT groups across Europe are also expressing support. Evelyne Paradis, executive director of ILGA-Europe, stated in a press release:
"Today is an unfortunate day for Montenegro. A group of LGBTI citizens exercised their fundamental right to assembly and publicly express themselves peacefully. Unfortunately other citizens employed violent methods to deprive their compatriots of this basic right…The Montenegrin authorities fulfilled their duty to guarantee the right of assembly to LGBTI activists and their supporters…there is a huge need for education and awareness raising to be done by the Montenegrin authorities in order to cultivate and promote the basic principles and values of the European Union among its citizens, the principles of diversity and respect for human rights."
Fortunately, Prime Minister of Montenegro Milo Djukanovic has already stated publicly that his country "supports protection of human rights for all people without difference."
Watch videos of the protests and violence AFTER THE JUMP…