Former Governor Eliot Spitzer believes people will look past his prostitution scandal and allow him to reenter politics. As such, he's planniing a run for the NYC Comptroller's office, the NYT reports: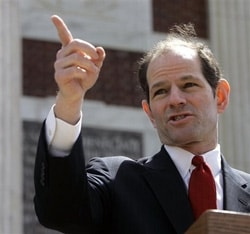 In a telephone interview on Sunday night, Mr. Spitzer, 54, sounding restless after an unwelcome hiatus from government, said he had re-envisioned the often-overlooked office and yearned to resurrect the kind of aggressive role he played as New York State's attorney general. He said that after consulting with his family and taking the temperature of the city's electorate, he believed New Yorkers would be open to his candidacy. "I'm hopeful there will be forgiveness, I am asking for it," he said.
Is Anthony Weiner leading the way?
Mr. Spitzer batted away a question about whether the reception enjoyed by Mr. Weiner, who is running neck and neck with the front-runner Christine C. Quinn, factored into his decision, but said he was approached regularly by New Yorkers who say they would support him if he ran for office again.
Wrote Spitzer on Twitter: "Yess, I'm running for NYC Comptroller. Office is ripe for greater & more exciting use of the office's jurisdiction….I have looked at this race and decided that now is not the time to sit on the sidelines or go along to get along…As a former Governor and Attorney General, I believe I have the right record to continue fighting for the people of #NYC as comptroller."
Spitzer announced he would appear this morning on CBS This Morning at 8 am to discuss his campaign.