Former Miami Heat player Tim Hardaway, who responded to John Amaechi's coming out in 2007 by declaring "I hate gay people," and has since become an advocate for LGBT youth, was the first petition-signer on the Equal Marriage Florida effort to put a proposed constitutional amendment legalizing same-sex marriage in the state on the November 2014 ballot, the Palm Beach Post reports: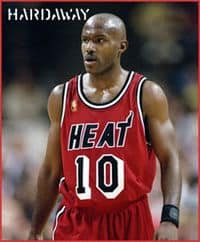 The campaign must gather more than 680,000 signatures from registered voters to have a chance to get on the ballot.
Signing the same-sex marriage measure comes only a couple months after Hardaway reached out and endorsed NBA player Jason Collins for coming out as the first openly gay athlete in any of the major professional leagues. Hardaway's son, Tim, Jr., also has just been drafted by the New York Knicks.
Hardaway in 2007 made news for telling a Miami radio interviewer that he didn't like gay people and acknowledged he was homophobic. After enduring a host of financial sanctions and being barred from activities at an NBA All-Star weekend, Hardaway began a long road toward tolerance, telling another interviewer about the incident, "I'm going to do whatever I can to correct it."