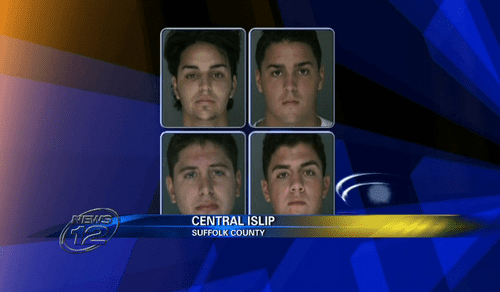 Four men from Long Island's Oceanside neighborhood are now facing possible hate-crime charges after a situation turned violent late Saturday night. Police say that the suspects attacked two other men, and used anti-gay slurs both before and during the attack in Babylon.
According to News 12 Long Island, 18-year-old Nicholas Bagattallia, 20-year-old Greg Gilbert, 17-year-old Justin Buckley, and his brother, 18-year-old Shane Buckley were out celebrating a friend's 21st birthday. The four then happened upon the two victims and reportedly asked them for directions to the nearest train station. It is not yet clear exactly how the situation became violent. However, both victims were subsequently transported to Good Samaritan Hospital Medical Center, where one victim still remains in recovery.
Two of the suspects, Justin and Shane Buckley, are the brother of fallen Marine Lance Cpl. Greg Buckley Jr, who was killed in action in Afghanistan last August. Family and attorneys for all four suspects "deny the allegations in their entirety", and maintain that the four victims are actually the true aggressors. 
You can read News 12's full report and watch the video HERE.