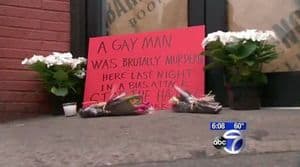 Members of the New York LGBT community, as well as allies and supporters across the nation, were absolutely stunned and saddened upon hearing the news of Mark Carson, who was shot in the face and killed outside a bar on Sixth Avenue and West Eighth Street in Greenwich Village. The attack came as part of a wave of anti-gay violence that erupted in New York City earlier this year, and spawned subsequent protests and demontrations throughout the city. 
Now, according to the Huffington Post, the shooter, Ellior Morales, is facing charges of charges of murder as a hate crime, criminal possession of a weapon and menacing, and is likely looking for an acquittal via a "temporary insanity" plea. Morales appeared before Manhattan Supreme Court yesterday afternoon. During the hearing, defense attorney Kevin Canfield told the court that he "intends to present psychiatric evidence at trial". He later spoke to reporters after the hearing, saying that "it could be temporary insanity." NY Daily News previously reported on Morales' intent to plead not guilty, and speculated that an insanity plea would likely be his defense. This is, however, the first formal indication of the plea in court.  
It is not yet known if Morales had any history of mental illness or psychological problems prior to the May 18th shooting. Thus, it is currently unclear as to what sort of psychiatric evidence Canfield intends to present at trial. As was noted by HuffPost:
"Morales, 33, did not speak during the brief court appearance but appeared somber, sporting a shaved head, gray shirt and tie and wire-rimmed glasses."
Morales also made headlines with the various comments he made upon confessing to the murder after the fact, reportedly laughing as he did so, saying that the victim "thought he was tough, and I shot him. It's the last thing he'll remember." He also allegedly threatened police officers, saying "I keep bringing you deeper and deeper into my hell. Just wait till I get these cuffs off, the first b—- cop I see I'm gonna take out." Morales would eventually claim that he has "no problem with gay people", despite extensive evidence to the contrary. 
No dates have been set yet for Morales' trial.