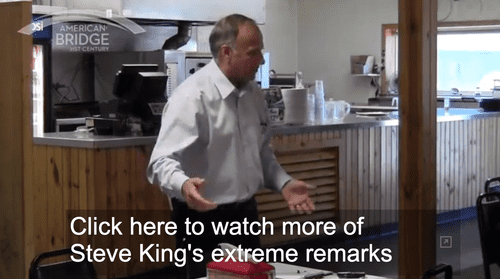 Repulican Rep. Steve King of Iowa has already been called out by Ricky Martin online for his bigoted remarks. Now, the liberal group American Bridge is having some fun at King's expense, and overtly mocking the congressman…on his very own official website. Granted, the group is mocking him for his remarks on immigration, not LGBT rights, but that doesn't mean we can't also be in on the joke. 
King posted the American Bridge video, which documents him using his pets as an example during a discussion of immigration law, on his site Monday as a means for soliciting donations. Below the video, King insists that:
"I complimented legal immigrants. In fact, I've even received dozens of messages from Hispanics who have watched the video letting me know it was complimentary and many of them declared their disgust for the way the left has tried to twist my words!"
King's opponents, on the other hand, claim that King was making a direct and offensive comparison between immigrants and dogs. Luckily for American Bridge, YouTube allows content creators to place annotations on their videos at any point after their video is uploaded. Those annotations will then display on top of the video across most of its platforms, including any pages choosing to embed that video. Thus, when American Bridge added some rather conspicuous pop ups to their video, those pop ups were subsequently displayed on King's site as well. 
You can view the video, pop ups and all, AFTER THE JUMP (via Politico). You can also view Steve King's page on his official site HERE.