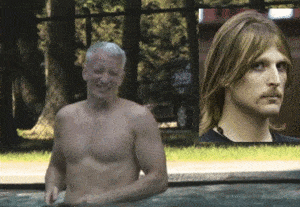 Prior to 2008, Alex Hausner was a psychiatric patient and self-described gay, Jewish white-supremacist from Queens, New York. However, that year was the first in a five-year ordeal, during which Hausner repeatedly tried to harass out news anchor and "silver fox" Anderson Cooper, even going so far as to attempt breaking into Cooper's apartment. Security footage depicts Hausner as repeatedly trying to kick down Cooper's door while yelling "I swear to f–king God, don't insult me!" and "I'm going to f–k you up!" Upon being told to leave, Hausner reportedly tried to tell police that he had a right to be there, and that Cooper and his boyfriend were actually the ones stalking him.
Before his arraignment in a Manhattan Criminal Court last night, Hausner said "I can prove from my sources that his boyfriend has sent people after me," according to the New York Post. Meanwhile, Assistant DA Rachel Rachel Ehrhardt had a different story to tell, saying, "he was told on numerous occasions not to call." Prosecutors continued the story, relaying to the court that, on June 22, Hausner "showed up at Anderson Cooper's house, and he was told that he did not have permission to be at that location." 
This is not Hausner's first run-in with the courts. According to Ehrhardt, he has faced multiple felony and misdemeanor charges before. ONe ex-neighbor told the New York Post: "He was a radical — he believed in his [Jewish] religion, and he believed in the one race, the white race." He is being held in lieu of $75,000 bail, and is now facing charges of felony first-degree menacing and misdemeanor harassment and stalking.