Bradley Cooper and Gerard Butler, Wimbledon mascots.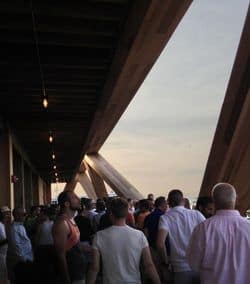 The Awl takes a thorough look at the new Pavilion at Fire Island Pines.

VIDEO: Kanye West's "Black Skinhead".

Experts map out the extent of elephant poaching in Africa, and it's horrifying.

Gay rights likely to be major part of Anthony Kennedy's legacy: "A hundred years from now, histories of the court will treat Justice Kennedy with respect to gay rights the way we think of Earl Warren with respect to racial equality," said Michael Dorf, a Cornell Law School professor and a former Kennedy clerk.
Three counties issue nearly half of all Iowa's gay marriage licenses: "Polk County, Iowa's largest county, has issued 1,186 same-sex marriage licenses from 2009-11. That's the highest of Iowa's 99 counties. Per capita, that's about 28 licenses per 10,000 people, which ranks eight out of 99 counties. "

Andy Murray poses with his Wimbledon prize.

You can listen to David Lynch's new album in full at Pitchfork.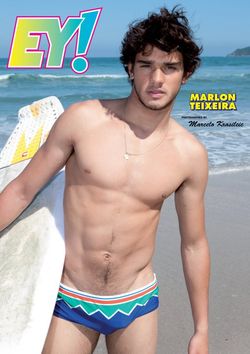 Ernst & Young's new branding issue: "A Google image search of 'EY' brings up photos of young male models clad in low-cut briefs, right alongside the Ernst & Young logo and some exterior shots of the company's offices."

UK AIDS charity: Very few men are 'bug chasers': "We are aware of a tiny minority of people who meet online to discuss bug chasing as a sexual a fantasy, but the reality is that very few will act on this in the real world. We recommend that gay and bisexual men protect themselves against HIV and other sexually transmitted infections by using condoms."

Victory Fund, David Bohnett Foundation send LGBT leaders to Harvard.

Morrissey fights foie gras with payout: "Morrissey has donated £10,000 paid by Channel 4 for the unauthorised use of a Smiths song to fund a campaign attacking Fortnum & Mason for selling foie gras. Channel 4 failed to ask Morrissey's permission to use the Smiths song Please, Please, Please Let Me Get What I Want when promoting the Gordon Ramsay's Christmas Cookalong Live show in 2011. The broadcaster is understood to have paid £10,000 to Morrissey in recognition of its error, and he has donated the money to the animal rights charity People for the Ethical Treatment of Animals (Peta)."

Athletes go nude for ESPN 'The Body' issue.

Republicans begin casting Hillary Clinton as a 'has been'.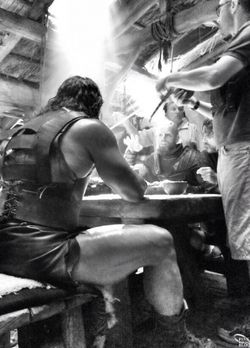 Dwayne Johnson shares some Hercules set pics.

Man who led Minnesota marriage equality effort to join national battle: "New York-based Freedom to Marry raises funds and works on legal strategies for same-sex marriage drives nationwide. The group announced Tuesday that Richard Carlbom will be its new director of state campaigns." Freedom to Marry announces path to nationwide victory…

Bradley Manning's lawyers ask judge to drop 'aiding the enemy' charge.

Chris Colfer steps out with his boyfriend Will Sherrod.

Glee's Jonathan Groff: dream theater camp teacher.

UK B&B owner who turned away gay couple loses appeal: "Mr Black, 64, and Mr Morgan, 59, from Brampton near Huntingdon, had booked and paid a deposit for a double room at the Swiss Bed and Breakfast in Cookham. When they arrived, Mrs Wilkinson made it clear she was not prepared to allow them to share a double bed, and that she would not accommodate them. Ms Wilkinson, a Christian, said her religious beliefs dictated her decision."