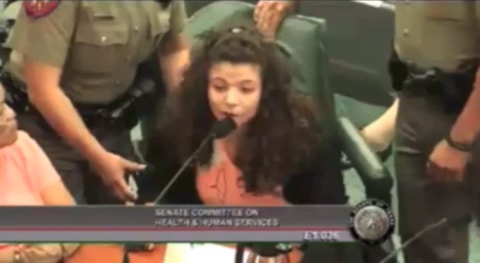 Going viral this morning is this video of Sarah Slamen speaking out at a Texas Senate panel about the abortion bil that was provisionally approved by the Texas House last night.
Slamen, a soon-to-be-New-Yorker, gave the senators a piece of her mind about the bill.
"Thank you for being you, Texas Legislature…You have radicalized hundreds of thousands of us, and no matter what you do for the next 22 days, women and their allies are coming for you."
When she began criticizing individual panelists, she was forcibly removed by police.
Said Slamen to DailyKos:
Senator Jane Nelson tried to say I was being disrespectful but how would she know? I barely got to give the complete performance review of every member on the committee. Pointing out that Sen. Donna Campbell is an ophthalmologist is not disrespectful when she asserts in a state hearing that she should be THE expert on reproductive health. What was disrespectful was the parade of anti-choice zealots and misogynists who got up for 13 hours and called women murderers, killers, promiscuous, thoughtless, and selfish. Not a peep from committee chair Nelson on those.
Watch, AFTER THE JUMP…