PHOTO OF THE DAY: Robbie Rogers struts his stuff for OUT Magazine's sports issue. 
BY SAM GREISMAN
A look back at today's top stories
WINGNUTTERY
Right-wing nutjob and anti-everyone activist Pat Robertson wants the public to know that he isn't anti-gay, it's just that gays are sick and wrong. In his latest entry in a series looking at life after the Supreme Court rulings, Ari Waldman takes a look at Justice Scalia's withering dissent of the DOMA case. A transgender nursing student in Florida has been threatened with expulsion because she dared to use the women's restroom and apparently Justin Bieber and President Clinton are all cool now. 
**
GAY NEWS
Things are looking very promising in Pennsylvania where after the Attorney General announced that she will not defend the state's anti-gay marriage law a judge with a rather liberal track record was named to the case. 
**
ENTERTAINMENT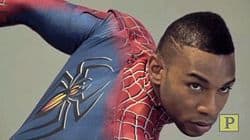 After Andrew Garfield wondered why Spider-man can't explore his gay tendencies, the real gay Spiderman has been discovered! Openly gay singer-songwriter Eli Lieb takes a look back at his own history with puppy love. A gay aerial duet on last night's America's Got Talent inspired a very gay moment between Howard Stern and Howie Mandell. And for those of you still watching Two and a Half Men, apparently Charlie has a lesbian daughter that will be making an appearance. 
**
VIDEO OF THE DAY
Huffington Post's comedy section provides us with the joy that is boys twerking to classical music.