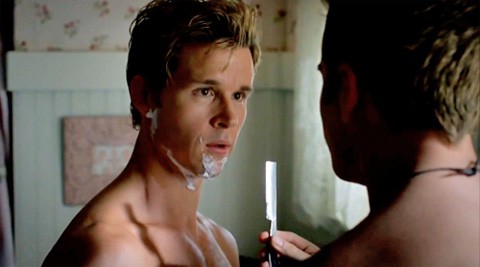 This week's episode of 'True Blood' found Jason Stackhouse (Ryan Kwanten) lusting after, and shaving, a male faerie named Ben…in his dreams, the Huffington Post reported. Though the HBO series, now in its sixth season, has put plenty of homoerotic action on display, our own recent countdown of its steamiest man-on-man scenes shows just how little of this sexy show's sexuality is gay, plain and simple. Thus far, dreams, manipulation, shirtless stand-offs, and death have marked the show's gayest moments. Throw us a bone, HBO – we want some true romance. 
For now, though, getting lost in Jason's dream is just fine.
Watch the sensual encounter, AFTER THE JUMP…
Make sure not to miss a Towleroad headline by following @TLRD on Twitter.