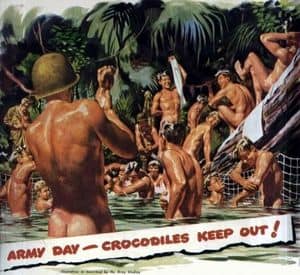 American troops in Afghanistan are reportedly using Craigslist to solicit and arrange casual and discreet sexual encounters, according to the Army Times…
"Sexual activities in a war zone are as old as wars themselves, but with the advent of Internet personal ads and social media sites, arranging a sexual encounter can become brazen, public and risky. Warnings from commanders, standard guidance for any unit headed to the war zone, appear to have fallen on deaf ears in many cases."
As a result, the Naval Criminal Investigative Service in Afghanistan is now having agents monitor such sites, and investigating any potential sexual encounters as violations of conduct. The Times told the story of one soldier:
"One Marine lance corporal…posted an advertisement on Craigslist for a sexual rendezvous. The guy he met at Camp Leatherneck, whom he thought was also looking to hook up, turned out to be an undercover agent with the NCIS."
The report then went on to explain:
"Online sex solicitation is technically not a crime under the UCMJ. However, commanders have the right to enact regulations that make it a punishable offense."
How so? While it may not be against any regulations to post a personal ad, "posting pornographic images on a public web or social media site is a chargeable offense," explained Erin Stattel, a press officer for International Security Assistance Force. "Adultery, pandering, and prostitution" are also on the list of violations. Commanders can also punish soldiers on a case-by-case basis under an article that bans conduct "to the prejudice of good order and discipline in the armed forces." Take the above-mentioned lance corporal for example. Commanders charged him with three violations: "attempting to commit an offense in violation of the UCMJ; failing to obey an order or regulation, and pandering and prostitution." The soldier accepted the punishment gracefully, but did express some resentment to the Army Times:
"It was against the rules set forth by the base general, … so they were doing their job, but what I don't agree with is how they were pretty much searching for people to arrest."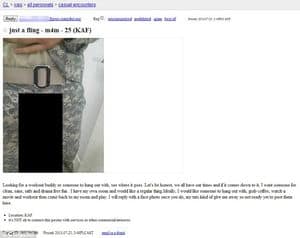 As the report indicates, a majority of the Craigslist ads investigated by the NCIS are by men seeking other men. That does not necessarily mean that the agency is targeting gay soldiers. Retired Col. Dr. Elspeth Cameron "Cam" Ritchie, Army psychiatrist and chief clinical officer for the District of Columbia's Department of Mental Health in Washington, offered a different explanation. She told the Army Times:
"When detached from home, without the ability to openly exercise relationships in a combat environment and with a fatalistic attitude, military members would be inclined to embrace risk-taking. These young men have high testosterone and, with the inability to quietly have a relationship, it is not surprising that they are willing to put themselves into that situation."
UK's Daily Mail took it upon themselves to peruse many of the Craigslist pages in question, posting many racy screencaps on their site. The images depicted standard fare for any casual-sex-soliciting social network pages…disembodied torsos, genitals, and an overabundance of words such as "looking" and "discreet". Naturally, upon discovering news of these casual sexual encounters, conservative activists did not approve.