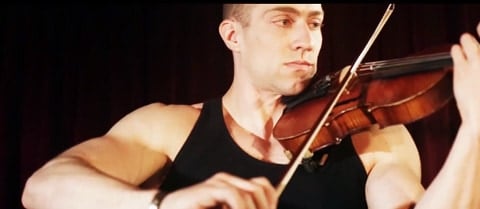 Well-Strung, the gay singing string quartet founded in 2012, has released a music video for their newest song, a mash-up of Mozart's "A Little Night Music" and Kelly Clarkson's "Since U Been Gone." Seems like an odd combination, no? Turns out, that's just Well-Strung's niche.  
Watch and listen, AFTER THE JUMP…
The group's website gives a little more information: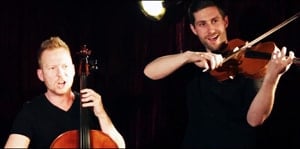 One Direction step aside, there's a new kind of boy band on the circuit. The all-male string quartet Well-Strung features classical musicians who sing putting their own spin on the music of Mozart, Vivaldi, Rihanna, Adele Lady Gaga, and more! Their debut show sold-out Joe's Pub on May 1st, 2012 in New York after being workshopped at Ars Nova NYC in February. 
Well-Strung stars first violinist Edmund Bagnell, second violinist Christopher Marchant, cellist Daniel Shevlin and violist Trevor Wadleigh.
I had the privilege of interviewing and writing a story about the group, as well as seeing them perform, this spring at the Marjorie S. Deane Little Theater in New York. They are kind, personable, and have an excellent stage presence. Not to mention, their musicality is impressive, all the more so in that they sing and play at the same time. 
After finding success in New York and Provincetown, MA, this hunky quartet is spreading its wings this year, with gigs in Chicago, Miami, and even London. They are definitely ones to keep your eye on.
For information regarding the group's members, tour dates, videos, and more, visit their website.
Watch and listen, AFTER THE JUMP…