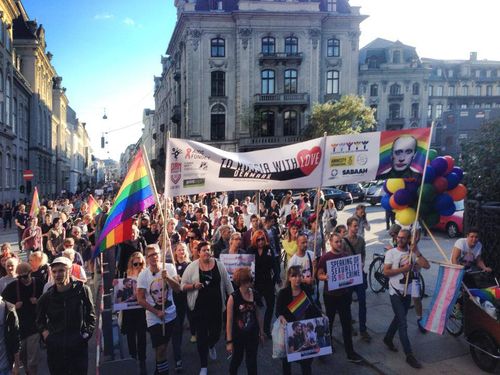 The Copenhagen Post reports on a massive march against Putin and Russia's anti-gay laws in Copenhagen, Denmark yesterday:
Ten thousand people got an early start on Copenhagen Pride festivities on Tuesday with a demonstration against Russia's recently passed anti-gay law. Protestors taking part in the 'To Russia with Love' demonstration gathered in front of Christiansborg, the house of parliament, and then proceeded to march to the Russian Embassy, where they submitted signatures of people opposing the law. The demonstration's organisers had hoped 2,000 people would participate, but media reports put the turnout at upwards of 10,000 demonstrators.
Video of the march, AFTER THE JUMP…
Image via the Facebook group To Russia With Love.