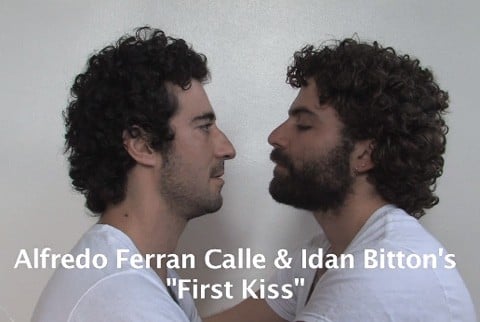 Brooklyn-based artist Idan Bitton writes us:
I recently posted one of my videos on YouTube. The video features a kiss between me and a fellow male artist. As the video started becoming popular, and surprisingly inspiring to viewers, it got flagged and age restricted on YouTube while other "straight" kissing videos are not. Some of them even have titles such as "How to Kiss Dirty" and such.

I wanted to bring this to your attention in the hopes of raising the awareness to this issue with the help of Towleroad.
Adds Bitton on YouTube:
First Kiss is a 84 minute kiss video between the artists Idan Bitton and Alfredo Calle Ferran. While the camera is still, the kiss is in motion provoking the viewer to stay and watch. Idan and Alfredo do not interact with the viewer, but offer a peek into their intimate moments of commitment. This long lasting, present and unapologetic kiss defines our current gay rights momentum. We are here, we love each other, and this is what it looks like.

Watch Bitton's 90-minute kiss, AFTER THE JUMP…