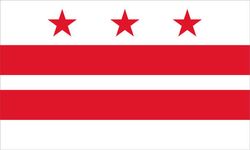 On Tuesday, District of Columbia mayor Vincent Gray signed into law the country's most trans-inclusive policy for updating birth certificates, one that transgender advocates hope will become a nationwide model in the near future. The Los Angeles Times details the new changes to D.C.'s birth certificate policy:
The Washington measure eliminates requirements for surgery and a court order that, transgender rights attorney Lisa Mottet said, make it too expensive and inaccessible for most transgender people to complete a legal transition.
…
Nationwide, only 24% of transgender people can get the gender changed on their birth certificates because of restrictive laws, according to a study by the National Gay and Lesbian Task Force, where Mottet works. This can create problems when they enroll in schools or apply for jobs, she said.
Washington's new policy "means that people can go about their lives and have their gender recognized, instead of having government documents that say you're not who you say you are," said Mottet, who was an advisor on the measure's language.
Washington will grant new birth certificates to transgender people who provide a statement from a licensed healthcare provider that they have undergone "appropriate treatment" for a gender transition. The measure, which passed unanimously, also exempts them from a requirement to advertise a concurrent name change for three weeks in a newspaper.
Fred Sainz, vice president of the Human Rights Campaign, said that with the Supreme Court's pro-equality rulings in June, the push for full LGBT equality should be a prime focus for advocates and allies moving forward. "Now we have momentum at our back, and we really need to use this time effectively to gain as many protections as possible for transgender people," said Sainz.