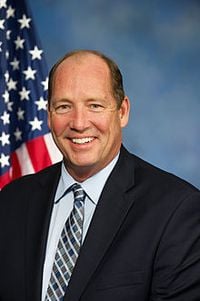 With Obamacare back in the news as foes attempt a final push to stop the health law's implementation, town hall fever has slowly been picking up again across the country. Unfortunately, members of congress oftentimes use these town hall meetings as a broader soapbox to rail against political opponents and their ideology in a bid to appeal to increasingly partisan constituencies.
Earlier this week, freshman congressman Rep. Ted Yoho (R-FL) used one of these town hall meetings as an opportunity to lament the 'sad state of affairs' in America today and unpack all the grief he's been feeling lately about gay marriage, food stamps, and terrorist immigrants.
Via Right Wing Watch:
At a town hall meeting earlier this month, after he announced he would back birther legislation and accused Obamacare of being racist against white people, Rep. Ted Yoho (R-FL) went after gay marriage, immigration reform and food stamp funding. "I think it's a sad state of affairs in America today that we as a society are so confused that we have to redefine what marriage is," Yoho lamented. "It's an institution that's been around for thousands of years and I feel like it's ordained by God; are we that confused as a country that we have to start redefining these things?" 
 Listen to the entire diatribe, AFTER THE JUMP…