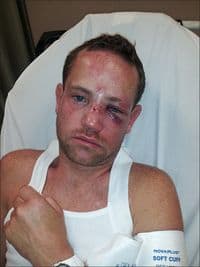 A gay man was beaten early Monday morning in Seattle's Capitol Hill neighborhood, KOMO News reports:
Jason Jacobs told officers he was walking in the 200 block of Summit Avenue East shortly after midnight when he was approached by three men and two women, who started calling him derogatory names based on his sexual orientation.
The group chased Jacobs down the street and attacked him when they caught up, leaving him with a broken nose and cuts to his face and knees, according to police. He was later taken to Harborview Medical Center for treatment.
The attack is being investigated as a hate crime.
KIRO reports that Jacobs was attacked near the 200 block of Summit Avenue East. He could only tell police that his attackers were two white women and three white men because he had been drinking at the time.