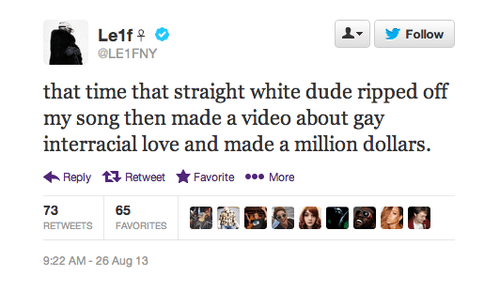 Last year Seattle hip-hop duo Macklemore & Ryan Lewis released the song "Same Love," a rap about legalizing same-sex marriage. At the 2013 Video Music Awards, Macklemore took home two awards for the song and video: Best Hip-Hop Video and Best Video With a Social Message.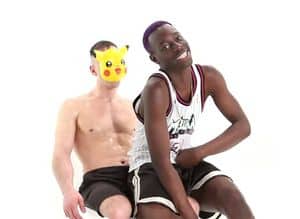 In response, New York-based gay rapper and producer Le1f took to twitter to lambast the duo for, essentially, being straight white men who were awarded for writing a song about gay interracial love while he and other gay artists have gone ignored. The tweets also contained veiled accusations of greed, evil, and that gay teens come out to Bjork concerts, not Macklemore vids. Le1f further claims that Macklemore ripped off one of his songs, and though he doesn't specify in his tweets, Out.com suspects that he's saying that Macklemore stole the hook from Le1f's "Wut" to use in "Thrift Shop," and the site provides both music videos for comparison.
The tweets have since been deleted, but nothing on the internet ever truly vanishes.
The two videos, "Wut" and "Thrift Shop", AFTER THE JUMP…