Yesterday U.S. Senate candidate and Newark mayor Cory Booker told the WaPo that it's fine if people speculate that he's gay: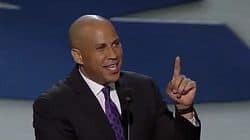 "And people who think I'm gay, some part of me thinks it's wonderful. Because I want to challenge people on their homophobia. I love seeing on Twitter when someone says I'm gay, and I say, 'So what does it matter if I am? So be it. I hope you are not voting for me because you are making the presumption that I'm straight.' "
The remarks were seized on by Newsmax's Steve Malzberg, who asked his homophobic opponent Steve Lonegan what he thought about the "purposely ambiguous" remarks, Right Wing Watch reports.
Said Lonegan:
It's kind of weird. As a guy, I personally like being a guy. I don't know if you saw the stories last year. They've been out for quite a bit about how he likes to go out at three o'clock in the morning for a manicure and a pedicure….Maybe that helps to get him the gay vote by acting ambiguous…I don't like going out in the middle of the night, or any time of the day, for a manicure and pedicure. It was described as his peculiar fetish. I have a more peculiar fetish. I like a good Scotch and a cigar. That's my fetish but we'll just compare the two."
Watch, AFTER THE JUMP…