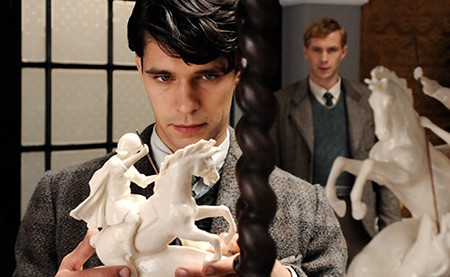 GLAAD today released its 2013 Studio Responsibility Index, which analyzes the "quantity, quality, and diversity" of LGBT people in films from 20th Century Fox, Paramount Pictures, Sony Columbia, Universal Pictures, The Walt Disney Studios and Warner Brothers released in 2012.
On a related note, Towleroad's film critic Nathaniel Rogers released his own list of the 'Best LGBT Movie Characters of 2012' at the end of that year. You might want to check that out.
As far as GLAAD's report goes, the results are poor for all involved:
Out of the 101 film releases by the major studios in the 2012 calendar year, only 14 films contained characters identified as lesbian, gay or bisexual. There were no films containing transgender characters. More detailed looks at each studio and their films can be found in the report.
Fox and Disney received "failing" grades. Disney released one LGBT-inclusive film while Fox released none. The grades for all other studios was "adequate".
One new element of the report is the Vito Russo Test, named for GLAAD founder Vito Russo.
To pass the "Russo Test," a film must contain an identifiably LGBT character, who must not be solely identified by their sexual orientation or gender identity, and who must be tied to the film's plot so that his or her removal from the story would have a major effect on it.
According to the report, six of the 14 studio films that featured LGBT characters passed the Russo Test.
Kane said "Cloud Atlas," an independent movie distributed by Warner Bros. in the U.S. and Canada, was the most LGBT-inclusive film released by a major studio in 2012. The Tom Hanks-starring picture, directed by Lana and Andy Wachowski and Tom Tykwer, passed the Russo Test.
Also drawing positive notice from GLAAD, and passing the Russo Test, were Universal's "Pitch Perfect" and Paramount's "Fun Size." Universal and Sony each released four LGBT-inclusive films in 2012 — more than the other major studios.
Films released by the studios' specialty imprints, such as Universal's Focus Features, were not included in the tallies. Companies like Focus, Sony Pictures Classics and Fox Searchlight Pictures — all known for their independent sensibilities — released films in 2012 that featured LGBT characters. Under the parameters of the study, Jinks' "Milk," which was released by Focus in 2008, wouldn't have been included in the tally.
Read the report below: