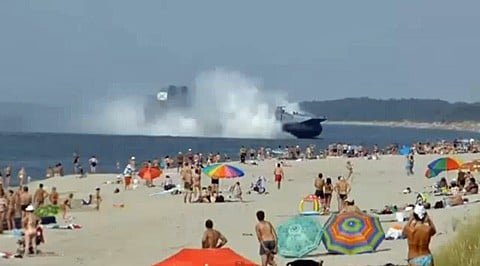 A gigantic, 60-meter hovercraft pulled up on a beach in Russia loaded with swimmers and sunbathers.
Watch, AFTER THE JUMP…
The Irish Times reports:
Holidaymakers near the Russian port city of Kaliningrad were startled yesterday when a giant military hovercraft landed in their midst on a beach in Mechnikovo. Video of the incident posted on the internet shows beachgoers marveling at the sight of the Zubr-class hovercraft as it lands on the beach. Purported to be the world's largest vessel in its class the Zubr (Bison) vessel weighs some 550 tonnes, carries sophisticated weapons systems and is capable of carrying tanks and up to 400 troops.
From the YouTube page:
Hundreds of people were sunbathing on the beach when the vessel powered towards them. No one was injured, although witnesses said beachgoers were surrounded by paratroopers and asked to move on. A spokesman for the Russian defence ministry told local newspaper Komsomolskaya Pravda that the hovercraft was on a tactical mission in an area owned by the military.
"Docking at the beach … is a normal event," a spokesman was quoted as saying. "What people were doing at the beach on the territory of a military (base) is unclear."
Um, sunbathing?
Perhaps the military was just coming to arrest the people with the rainbow beach umbrellas in the foreground.
Watch, AFTER THE JUMP…