The International Olympic Committee says it is "standing by" reassurances from Russia that athletes and visitors to the Sochi 2014 Games will be exempt from its anti-gay laws in the wake of warnings from Russian Sports Minister Vitaly Mutko that they would be prosecuted, USA Today reports: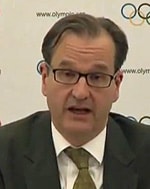 "We rest with comments made directly to us by deputy PM Kozak," IOC spokesman Mark Adams wrote in an email Thursday, referring to Russian deputy prime minster Dmitry Kozak.
Olympic champion Greg Louganis is the latest public figure to speak out against Russia and what he called a "hearbreaking an heinous" law, telling the paper that he hopes Putin will follow his heart.
The U.S. Olympic Committee has also made assurances that The Olympic Charter prohibits any form of discrimination. Whether Russia abides by those guidelines remains to be seen but recent actions, in which tourists and protesters have been arrested, provide little reassurance.