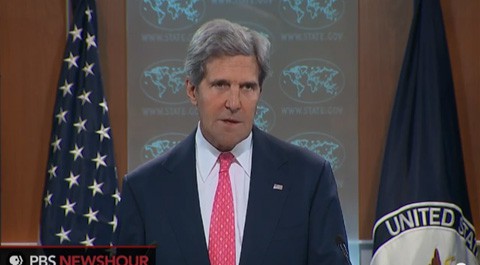 Watch Kerry's statement, AFTER THE JUMP…
Secretary of State John Kerry offered a long statement yesterday on suspected chemical attacks in Syria, warning that military response could come at any time:
"President Obama believes there must be accountability for those who would use the world's most heinous weapons against the world's most vulnerable people," Kerry said at the State Department, laying the foundation for U.S. involvement in the bloody Syrian civil war…
"It is undeniable," that chemical weapons were used, Kerry said. "This is about the large scale, indiscriminate use of weapons that the civilized world long ago decided must never be used at all.
Britain is preparing a contingency plan for intervention, the NYT reports:
British fighter aircraft were reported to have been sent to Cyprus, a likely launching pad for any non-missile strike.
"We are continuing to discuss with our international partners what the right response should be, but, as part of this, we are making contingency plans for the armed forces," Mr. Cameron's spokesman said. The intention of any strike, British officials have said, is to deter further use of chemical weapons.
Watch Kerry's statement, AFTER THE JUMP…
David Mixner posts a list of things to consider as air strikes seem, at this point, inevitable:
What are the ramifications of those decisions and does it bring us closer to peace?. This is not about 'crossing the line' since the 100,000 killed already is just as horrifying as the several thousand who died by gas. The 'line' really doesn't exist and never has existed.