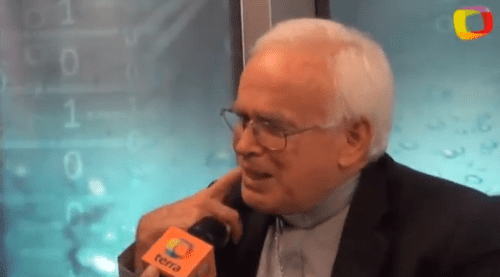 Ever since Pope Francis' message of tolerance towards LGBT Catholics and (people in general), members of the Catholic church have been divided as to precisely what it means for their faith and for the church. On the one hand, you have Cardinal Timothy Dolan, who quickly issued a rebuttal to the Pope's statement reaffirming that "homosexuality is still a sin". On the other, you have the likes of Mexican bishop Raúl Vera, who believes that homophobes are actually the depraved ones.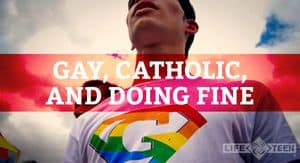 During an interview posted Tuesday on YouTube, the bishop was asked to respond to the Pope's statement of "who am I to judge", which sent him off on a two and a half minute speech condemning religious-based homophobia. "They're human beings deserving of respect," he began, speaking of LGBT people. "I am certain that [God] knows because, in reality, it's many members of the Church who don't want to recognize the scientific reality on the issue of homosexuality." 
Bishop Vera subsequently gives a questionable explanation of the origins of homosexuality, claiming that homosexuality occurs when a person's "anatomy does not correspond with their hormones." While Vera may or may not have his facts straight in that regard, he does preach a message of acceptance, and faults members of the church who insist on excluding members of the LGBT community:
"One mother came to me and said that she was being watchful of her son because he was hanging out with 'those degenerate gays' and I said 'so blame yourself for it because that's the way your son developed in your womb and he didn't develop into a degenerate or a perverse person. He was born with a certain constitution you are trying to ignore. Calm down, you are the mother of that child and he began to be who he now is inside your womb. So the first one I'd kick out would be you because you are the perverse one who is first in line.' That's what I said…

"What does the Bible say? Why would I immediately think a gay or lesbian person is perverse or depraved the moment they approach me? That's how people who are homophobic react. It's a mental illness in which you see gays as depraved and promiscuous.  You have to be sick in the head for that."
This isn't Bishop Vera's first brush with LGBT rights advocacy. This past December, the Associated Press profiled Vera and his pro-LGBT stances in a piece last December. Vera has supported LGBT rights legislation before in Mexico, and was previously brought to the Vatican to explain an outreach program he helped organize for gay young people. He's even received death threats as a result of his activism. 
Watch the video clip (with translation annotations, courtesy of Blabbeando)… AFTER THE JUMP…