NOAA: 2012 among the 10 warmest years on record.

Washington Post: It's time for Obama to sign an ENDA executive order.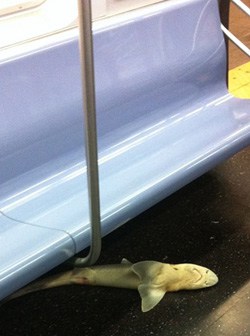 Sad: Dead shark photographed on NYC subway.

Oprah reached out to Paula Deen during the N-word scandal. "In the very first days I tried to reach her and then I decided to stay out of it as I saw it blowing up. In time she will be fine. For me, it all just felt kind of sad."

IAAF calls on Russia to reconsider anti-gay laws.

How should gay couples fend off pressure to marry? " Given the recent focus on the many benefits of marriage that same-sex couples were being denied, it's not surprising that many of our friends and relatives assumed gay lovebirds would get hitched if only we could."

Matt Bomer rocks some tight leather.

Steve Grand to perform at Chicago's Market Days on Saturday before Wilson Phillips hits the stage: "Grand will perform his viral gay-themed love song "All American Boy" at 8 :15 p.m. on the street festival's North Stage. Market Days' headliners also include names like Lynda Carter and David Cassidy."

Miley Cyrus's new album is called Bangerz: "If you don't know why my record is called BANGERZ you'll know as soon as you hear it. Nothin but #BANGERZ".

Video game invites you to slap Hillary.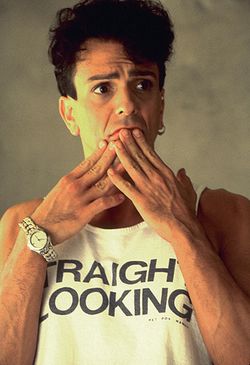 Hank Azaria on playing his Birdcage character: "'Hesitant' is too mild of a word… not only could I be offending all gay people… but is the character going to work? Is it funny?"

GLAAD gives Donald Trump some instructions he won't listen to: "Now is the time for Donald Trump to show some leadership and to demonstrate that he is not like the other anti-LGBT activists out there. Donald Trump needs to use this speaking opportunity to publically and unequivocally distance himself from the radical and outlandish claims being made by Vander Plaats and his colleagues at the Family Leadership Summit."

Main terminal at Kenya's airport destroyed by fire.

Homelessness a greater risk for gays in some cities.

Pennsylvania's leading bigot lawmaker Rep. Daryl Metcalfe wants to impeach elected officials who issue marriage licenses to gays.

Frank Bruni: Striking Olympic Gold.
"Imagine this: it's the opening ceremony of the 2014 Winter Games in
Sochi, Russia. A huge television event, watched the world over. The
American Olympians join the proud march of nations. They're our
emissaries, our exemplars. And as the television cameras zoom in on Team
U.S.A., one of its members quietly pulls out a rainbow flag, no bigger
than a handkerchief, and holds it up. Not ostentatiously high, but just
high enough that it can't be mistaken."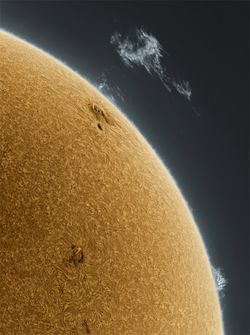 Sun's magnetic field about to flip. "It looks like we're no more than 3 to 4 months away from a complete field reversal," solar physicist Todd Hoeksema, director of Stanford University's Wilcox Solar Observatory, said in a statement. "This change will have ripple effects throughout the solar system."

Little Britain's David Walliams talks sexuality: "I think it's all about falling in love with the person and that is overlooked, really…I hate it when people 'confess' or 'reveal' their sexuality and also things can change for people over the years. So it is about the person but I also think it goes beyond that. You don't just fall in love with someone's body, do you? You fall in love with someone's soul and heart and brain."

VIDEO: Morrissey performs "Every Day is Like Sunday" on new concert DVD.

Ira Sachs adds John Lithgow and Marisa Tomei to follow-up to Keep The Lights On: "Lithgow last month boarded the project replacing Michael Gambon, who was initially set to star opposite Alfred Molina. Lithgow and Molina will now play Ben and George, respectively, partners of 38 years who finally are able to marry only to be forced to crash separately with friends and family after they lose their apartment. Tomei will play novelist Kate, who's married to Ben's nephew. When crisis strikes Ben moves in with the couple."