The United Restaurant and Tavern Owners Association of New York (URTO) and LGBT activists are planning to dump Russian vodka into the streets of Manhattan this afternoon and call for a ban of Russian-made spirits, liquors, and foods to protest anti-gay laws in that country, ABC News reports: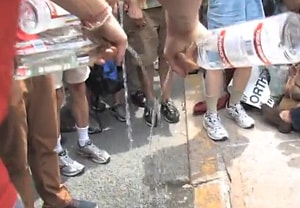 The move is meant to protest Russian laws that ban the "propaganda of nontraditional sexual relations" and prevent citizens of countries that permit gay marriage from adopting Russian children, according to the statement.
In Russia, gay public displays of affection, including holding hands, or displaying symbols like a rainbow flag, are now banned. It is even illegal to speak about homosexuality around minors.
"A ban on Russian liquor and products could have an economic effect on the former Soviet Union," the statement said. "The URTO will be urging that people drink and eat American products instead."
This boycott appears to be the first city-wide move to protest Russia's anti-gay sentiment.
URTO represents 3,000 hotels, nightclubs, bars, and restaurants according to the NYDN.
Stolichnaya and its parent company SPI, which have been the main targets thus far, have been fighting boycotters. SPI CEO Val Mendeleev says that while the brand uses Russian ingredients it is based in Luxembourg, not Russia, and that Stoli and SPI have been in contest over ownership of the brand for 10 years.
Said Mendeleev to Michelangelo Signorile at XMProgress:
"Stoli has been a friend of the LGBT community and has been an opponent of the Russian government. Stoli was singled out by the community with which we associated in a way that we don't believe was appropriate. If you look at our relationship with the Russian government, we've been boycotted by the Russian government for the past 10 years. We've been threatened, raided. And now we are being boycotted by the LGBT community."