Olympic president Jacques Rogge says it has received written assurances from Russia about how the anti-gay laws will be applied during the Sochi Games but says it has sent them back for further clarification, Reuters reports: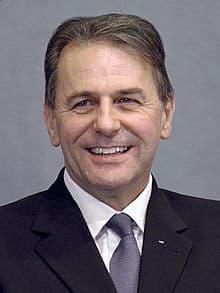 At a news conference in Moscow following a meeting between the International Association of Athletics Federations (IAAF) Council and the executive board of the IOC, and ahead of the start of the world athletics championships in the Russian capital on Saturday, Rogge said his body needed clarification over the English translation of the law.
"We have received all reassurances emanating from Mr Dmitry Kozak, who is in charge of the organisation of the Games in Sochi. We asked for written confirmation of these reassurances," said Rogge, who was sitting alongside IAAF president Lamine Diack in the conference hall of the Radisson Royal hotel.
"We received them yesterday, we have studied it this morning but there are still uncertainties and we have decided to ask for more clarification as of today. So we are waiting for this clarification before having final judgement on these reassurances."
There is some issue with the translation, Rogge added:
"This is about a couple of paragraphs – we don't understand all the details because of probably a difficulty in translation. We don't think it is a fundamental issue, more of a translation issue."
Belgian Rogge, who steps down from the IOC presidency in September after 12 years in charge, said the Olympic charter was very clear.
"It says sport is a human right and should be available to all regardless of race, sex or sexual orientation. The Games themselves should be open to all, free of discrimination. Our position is very clear but as we don't have all (the) full details of a good comprehension of the law we cannot make any comment on that."