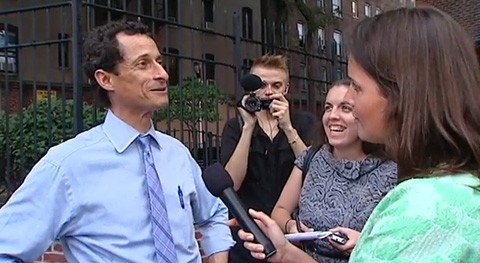 NYC mayoral candidate and chronic sexter Anthony Weiner had a bizarre exchange with ITV reporter Lucy Watcon yesterday, CNN reports:
"It's hard to take you seriously," he said after being asked whether he was pursuing his New York City mayoral bid out of "ambition" or "hunger for the job." He then appears to repeat her question in a British accent.
Standing with his hands on his hips, Weiner jokingly sneered as the ITV reporter, Lucy Watson, asked how he plans to carry out his political campaign following his admission last month that he continued to send lewd messages following his 2011 congressional resignation.
Asked if anything could stop him, Weiner replied: "I just have a feeling I've like stepped into a Monty Python bit."
Watch the video, AFTER THE JUMP…
In related news, Christine Quinn leads in the latest NYT poll:
But just over a month before the Sept. 10 primary, Ms. Quinn is still well below the level needed to avoid a runoff, and many voters remain undecided.
Ms. Quinn, the City Council speaker, is backed by 25 percent of Democratic voters, followed by 16 percent for William C. Thompson Jr., a former city comptroller, and 14 percent for Bill de Blasio, the public advocate.
Anthony D. Weiner garners the support of 10 percent of Democratic voters, confirming his slippage in the race that other surveys have also recorded since revelations that he continued to have sexually explicit exchanges with women online after he resigned from Congress two years ago. The remaining candidates in the poll each drew less than 5 percent; 26 percent of the Democratic voters surveyed were undecided.