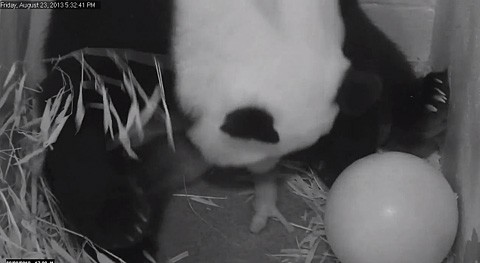 Mei Xiang, a giant panda at Washington's National Zoo, gave birth on Friday, and it was captured on the panda cam live feed. The cub was born at 5:32 in the afternoon.
Watch the birth take place, AFTER THE JUMP…
The panda has given birth twice before, though one of the cubs died after a week last September due to liver damage caused by underdeveloped lungs.
Behavior watchers have been monitoring her 24 hours a day since Aug. 7 via the panda cams. The panda team began preparing for a birth when they saw her water break around 3:36 p.m. and she began having contractions. Mei Xiang started spending extended amounts of time body licking and cradling her toys Aug. 11, all signs that she could give birth…
…The panda team expects Mei Xiang to spend almost all of her time in her den for the next two weeks with her newborn cub. The David M. Rubenstein Family Giant Panda Habitat has been closed to the public since August 2, and will remain closed until further notice to provide quiet for Mei Xiang and her cub. Both will be visible on the panda cam. Visitors can see Tian Tian in his outdoor habitat and on the panda cam.
As few as 1,600 giant pandas survive in the wild in China.
Giant pandas Mei Xiang and Tian Tian are at the National Zoo under a Giant Panda Cooperative Research and Breeding Agreement, signed in January 2011, between the Zoo and the China Wildlife Conservation Association. This extends the Zoo's giant panda program through 2015. Mei and Tian are the focus of an ambitious research, conservation, and breeding program designed to preserve this endangered species.
Watch the birth take place, AFTER THE JUMP…