The Russian government has responded to the International Olympic Committee's request for clarification about application of its laws during the Sochi 2014 Winter Games, the AP reports: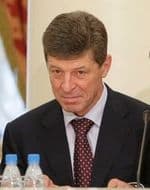 The IOC received a letter Thursday from Russian Deputy Prime Minister Dmitry Kozak (pictured) giving assurances the host country will comply with the Olympic Charter's provision against discrimination of any kind.
However, Kozak didn't back down on the issue of the new law, which penalizes anyone who distributes information aimed at persuading minors that "nontraditional" relationships are normal or attractive…
…Kozak says the law applies equally to everyone and "cannot be regarded as discrimination based on sexual orientation."
IOC President Jacques Rogge seemed pleased with the response, calling it a "strong written reassurance."