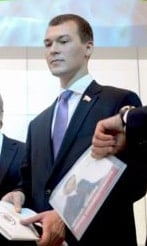 State Duma Deputy Mikhail Degtyaryov, a Moscow mayoral candidate for the LDPR party, is calling for a ban on blood donations by gay men, The Moscow Times reports:
"[Degtyarov] said Monday that his proposal is not an act of discrimination but a precautionary measure since over 65 percent of HIV-infected individuals are men, Interfax reported…
Degtyaryov said that the Duma is also considering a program to provide anonymous and voluntary counseling for gay and bisexual people who want to be heterosexual. "Many want to return to a normal life, to become heterosexual like 95 to 99 percent of our citizens," Degtyaryov said.
He also said that failure to forbid homosexuals from donating blood is a type of "sabotage."