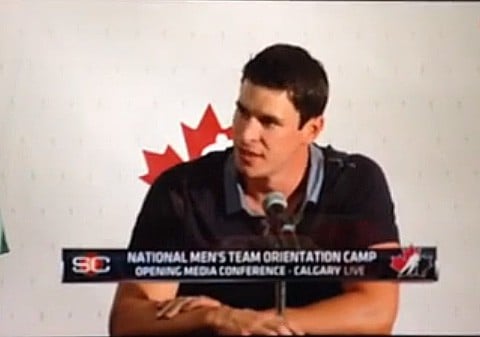 The NHL's top player Sidney Crosby was asked about his views on Russia's anti-gay laws at a press conference for Team Canada on Sunday.
"It's not something we've discussed a whole lot though, but, for me growing up in Canada, my view has always been that way. I think that everyone has an equal right to play and I think we've been supportive of that. With the Olympics and the controversy around that I think those decisions or those laws aren't necessarily something that we might agree with, I don't agree with personally … their laws and their views, everyone's entitled to those."
Crosby's Team Canada teammate, Nashville Predators star Shea Weber (also a supporter of the You Can Play foundation) said he too disagrees, but echoed Crosby's intent to play in Russia and focus on the game:
"Obviously, the NHLPA and myself are trying to support that cause. Like Sidney said, the way we're brought up is different than how the Russians view it. We're going over there to play hockey and obviously that's what we're going to try and focus on this year throughout our season."
Watch, AFTER THE JUMP…
High-profile Olympic athletes had better start getting their answers prepared because they are all going to be asked about this before the Games begin.