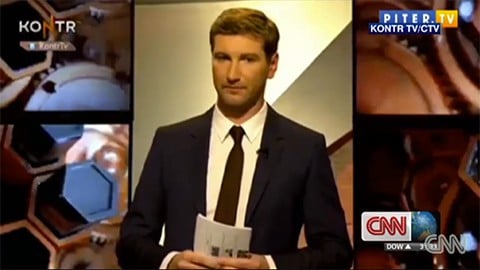 Anton Krasovsky, a well known Russian TV personality, was fired earlier in the year after he came out publicly on live television, according to Queerty:
"I'm gay, and I'm just the same person as you, my dear audience, as President Putin, as Prime Minister Medvedev and the deputies of our Duma," Krasovsky, 37, said earlier this year in January on the Kremlin-backed television and internet network he helped launch, KontrTV.
Though his admission was followed by a "storm of applause" by the audience and the show's staff, Krasovsky was fired the very same night. By the next day, his presence had been completely erased from the network's website; all of his corporate accounts and his email were blocked.
Krasovsky was surprised because "it takes them half a day to put up a banner when I ask them to, and here we had such efficiency."
Any footage of his coming out has also completely disappeared from the internet, which is a feat in this day and age, but we guess the moral here is never to underestimate the Kremlin.
Appearing on CNN Krasovsky was recently asked why he came out in such a public and potentially dangerous fashion, to which he replied: "Because somebody should do it. I decided it was time to be open. It was time to be open, for me."
Watch Krasovsky's interview with CNN AFTER THE JUMP…