The NYT has chosen its candidate: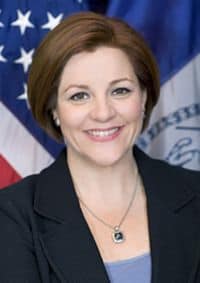 Ms. Quinn, the City Council speaker, offers the judgment and record of achievement anyone should want in a mayor. Two opponents — Bill de Blasio, the public advocate, and William Thompson Jr., former comptroller — offer powerful arguments on their own behalf. But Ms. Quinn inspires the most confidence that she would be the right mayor for the inevitable times when hope and idealism collide with the challenge of getting something done…
…We had already made up our own minds in favor of Ms. Quinn, but the Wednesday debate would have clinched it anyway. Candidates were asked what legacy they wanted to leave after two terms. "More people in the middle class," Ms. Quinn said. It was a perfect answer, and she could have left it there. But, Quinn being Quinn, she threw in supporting details. She wants 40,000 more apartments the middle class can afford to live in. She wants to repair crumbling public housing, providing "quality conditions" for 600,000 people. She wants to make the school day longer and replace textbooks with electronic tablets. At the buzzer, she threw in: make the city "climate-change ready."
A lot of good ideas that, in Ms. Quinn's case, add up to an achievable vision, and one we would be glad to see come to pass.