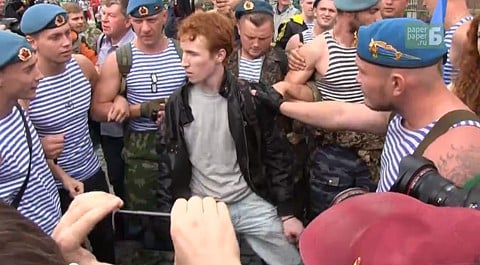 Gay rights activist Kirill Kalugin was attacked in St. Petersburg today while staging a one-man protest of Russia's anti-gay law. Reuters reports that "the former servicemen were gathered in central St. Petersburg to celebrate Russian Paratroopers Day, an annual holiday for the Russian airborne troops celebrated since the Soviet era days."
Watch a video of the attack, AFTER THE JUMP…
According to the Russian LGBT Network two of the attackers were detained by police and the activist, thankfully, got out unharmed.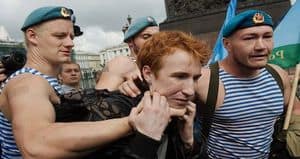 Animal NY has translation:
"What are you doing here on Airborne Army Day?"
"I am picketing," he says, trying to keep on his feet while being manhandled by the group.
"Well, we do not agree with this and ask you to stop this sort of action and your one-man picket." They begin to push him around. He falls.
"Oh, look he slipped and fell. Don't do that," the soldier says, performatively at the journalists trying to get closer. The man is visibly frightened as the soldiers form a chain around him and began to chant, smacking their fists into their palms.
"CALL THE POLICE ON HIM," someone jeer. "STAND RIGHT THERE," a few yell. The police arrive (blue shirts, police hats) and attempt to drag the man out of the circle, so the soldiers move closer, block their access and pushing the cops.
"What were you thinking, showing up at the Palace Square, faggot?" the leader yells.
"You guys are animals," the protestor rasps, while another soldier chokes him and shakes him by his neck. As the cops try to remove the illegally protesting young man, the soldiers start shoving them and throwing punches. In the next shot, they encircle the police vehicle — "We're not going to let them fucking move anywhere." — after their leader tries to get into the cruiser and drag the protestor out, yelling, "Why are you defending him?!"
The police begin putting the soldiers in detention vehicles and chaos breaks out, and then they begin attacking members of the media, who are their observing Kalugin's protest, Animal reports:
"We don't stand by your provocations," they scream at the car. Then, the drunken leader proceeds to rant at the camera about the "evil darkness" of "the bitches" in Russia and how bothered "we, normal human men" are by their sheer existence. "This is evil. Putin is fag and the rest of it is all shit. They entire country is on its knees. We are Russians! We are working!" In the background, a soldier screams at a cop, "Why are you not ticketing the faggot parade?"
Watch, AFTER THE JUMP…