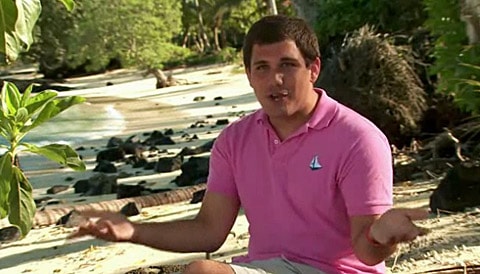 Every season of Survivor brings a new twist, and this fall's (the show's 27th!) is no different. Titled Survivor: Blood vs Water, this season will consist of ten returning players each competing against their very own loved one. Included in this list is the infamous Colton Cumbie, the gay Republican bully of last year's Survivor: One World, now accompanied by his finacé Caleb Bankston.
Check out a video of the couple, AFTER THE JUMP…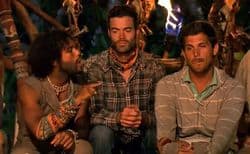 Survivor fans will no doubt remember Colton as the racist, elitist contestant whose manipulative antics squandered his all-male tribe's early victories, paving the way for an all-female final five that season.
By the second week, Colton had secured his place as the season's big vilian by convincing his tribe to give up their immunity idol (a no-no in the game of Survivor) so that he could vote out fellow tribemate Bill (pictured left), whom Colton considered "ghetto trash". At that night's tribal council, Colton told the African-American stand-up comic to "get a real job" before listing all the Black people he interacts with in his everyday life (i.e. his housekeeper).
Later in the season, Colton showed his insensitivity to little people by calling Leif an "Oompah-Loompah" to his face and saying "that little Munchkin needs to get knocked back to Oz." In the end, Colton was pulled from the game on the 16th day due to appendicitis, getting the premature and unceremonious exit he deserved. 
Hopefully his fiancé Caleb will be able to keep Colton's aggressive personality in check this season…
Survivor: Blood vs Water premiers Wednesday, September 18th.