The Washington Post and its assets have been sold to Amazon founder Jeff Bezos (pictured, with his wife Mackenzie), ending four generations of ownership under the Graham family, the paper reports: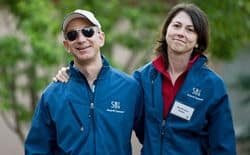 Bezos, whose entrepreneurship has made him one of the world's richest men, will pay $250 million in cash for The Post and affiliated publications to the Washington Post Co., which owns the newspaper and other businesses.
Seattle-based Amazon will have no role in the purchase; Bezos himself will buy the news organization and become its sole owner when the sale is completed, probably within 60 days. The Post Co. will change to a new, still-undecided name and continue as a publicly traded company without The Post thereafter.
You may have missed…
Amazon Founder Jeff Bezos and Wife Give $2.5 Million in Support of Marriage Equality [tlrd]